Summoners, due to a technical issue, this week's series of Alliance Quests will be cancelled at 4pm PT. There will not be any Rewards for this series. The next series of Alliance Quests will start on April 18 at 12pm PT. We will be assessing the impact on Alliances and compensating accordingly, as well as returning Alliance Tickets.
Dev Diary: A Contest Evolved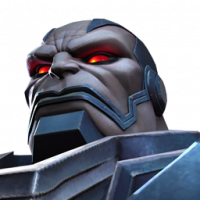 Kabam Miike
Posts: 6,597
Administrator ›
Summoners!

We're coming to the end of our series of 4 Dev Diaries on the Future of the Contest, and we're ready to go out with a bang! Get ready for a glimpse into the far future of The Contest of Champions!

This Dev Diary not only covers some improvements to Arenas and Incursions, but will also give you a first look at some features and systems that are still in their Prototyping and early design phase. As a reminder, all information in our Dev Diaries is subject to change as they develop further, but that is especially true of this one!

You're gonna have a lot of questions about some of the features that are far in the future, but we're not going to have many answers yet. That doesn't mean you shouldn't ask or discuss them, just that you might not get a response from us on them.

So, without further adieu, read about the future in our latest post, A Contest Evolved!

UPDATE:
Hey Summoners, we're hearing a lot of questions about the lack of an update on Masteries in the Roadmap. This is intentional, but we haven't forgotten about it.

As some of you had brought up, we had plans for a Mastery revamp featured in one of Dorky Diggedy Dave's videos earlier in the year. Unfortunately, while we had it planned, it didn't pass one of our design gates, preventing it from going any further.

Like you, we want to update Masteries and while it seems simple on the surface there are a lot of challenges in changing something that affects every Champion and fight in the game. BUT, we are working on it and we'll get a proper Dev Diary out about it when the time is right. We know it's important to you, as it is to us, that's why we want to get it right and we're looking forward to sharing more on that soon!
Post edited by Kabam Miike on