**BANQUET EVENT PSA**
To fully participate in the upcoming Banquet's Alliance Event you will need to be in your alliance for 14 days prior to the event's start date on December 20th. That means, stay in your alliance from December 6th onwards to enjoy all there is to offer in the Banquet event.
**Not Another Anime Reference Solo Event Returning**
This solo event has been fixed and will appear in game again on December 10th and will run through the 17th.
Reminder: This event is available to Paragon+ Summoners
Blade is the most overrated champion in MCOC history (backstory + novella)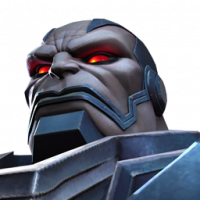 KDSuperFlash10
Posts: 5,869
★★★★★
Before we begin, I promise you that you won't be disappointed in what I have to say below.

Blade is the most overrated champion in MCOC history. When I returned to the game in April of this year, Blade was my best champion as I hadn't played in almost 2 years (I left the month before Ghost came out *sigh*). When Blade came out, everyone was going crazy about him so I joined the hype train. I had 5 5 stars at the time, Yondu, Psylocke, Falcon, Colossus (pre-buff), and Sentry. As you can tell, those aren't very good 5 stars. I had 15k 5* shards. After seeing all of Seatin's failed attempts to get Blade, I was a bit worried but I went ahead with it and bought the Blade crystal. It was the biggest crystal opening of my MCOC career. Spinning, spinning, spinning it went, until it began to stop. Duds and great champs passed by, and then... Hulk (OG), Agent Venom... BLADE!!!! That was the greatest opening in my MCOC career at the time. I ranked him up to r2 immediately (I didn't have many resources at the time) and used him in all sorts of content. Fast forward to April 2020, there was Blade, my best 5 star, among a few other 5 stars because I got some great 5 stars after the Blade crystal before I called it quits in June 2018, such as Cap IW (whom I awakened with a 5 star generic which I had no idea I had lol), Emma Frost, and Iceman. Blade has helped me throughout so much content, as I used him in all of Act 5, especially against all of the villain bosses in Act 5.4. As I progressed in April 2020 throughout Act 5 completion and later exploration, I ranked Blade up more and more. He went from r2 to r3, in which I awakened him from a 5 star crystal, and finally r4 (my first ever r4).

Once I finished Act 5, all was well and good, until I had an awakening, in which I was finally sent to the present. I learned about all these cool champions that I didn't know about, such as Omega Red, Ghost, Aegon, Nick Fury, among many others. Most of all, after scouring through youtube, I learned about the sheer power of Colossus, who soon enough became my second r4. As I progressed through content, I acquired more and more 5 stars and ranked up the good ones, such as Medusa. As I got these cool, new 5 stars and learned of their abilities, my uses for Blade lessened and lessened. I could no longer afford to bring my 4 star Ghost Rider and Stark Spidey into every quest as I needed those slots to accommodate my more powerful, 5 star champions who didn't need synergies. Variant 4? Done. Was Blade used? Barely. Next up was Act 6.1, my first ever Cavalier push. Did I use Blade? Barely. Without his synergies (I didn't have 5 star Ghost Rider or Stark Spidey), his power is massively weakened as his damage is average and his bleeds are okay at best in comparison to a champion like Nick Fury. Although his regeneration is great, fights last much longer with Blade than with someone like Colossus because of less damage, so I end up taking more chip damage with someone like Blade than someone like Colossus. In fact, I preferred my r3 Doc Ock instead of my r4 Blade for 6.1. At this moment, I thought to myself. How powerful is Blade in 2020? I had a burst of emotions, thinking to myself that I HAD to make use of my r4 Blade so I did anything in my power to use him in all sorts of content like AW and AQ. He did well in AW for me for a few weeks until I opened a cavalier crystal "just for fun" after finishing 6.1. I expected nothing out of that crystal. NOTHING. Then out came 5 star Omega Red. This, this was the moment in which everything changed. I felt tears in my eyes, emotions running through my veins, as that shiny Omega Red popped out of that crystal. I went back to 5.3 and explored it (I had explored all of Act 5 except Act 5.3) to get the generic AG to give to Omega Red. I gave it to Omega Red and fed 120 sigs into him. Then I took him to r4. My account changed forever. Omega Red became my mainstay in AW. Soon after, I learned of Omega Red's very powerful synergy with Colossus, so I started using them in almost every bit of content in the game. Blade just stood there, outclassed by these new more powerful champions. There was no space for Blade.

Ladies and gentlemen, thank you for reading through this novella of mine. I hope this was interesting to you, as I had a lot of fun writing this up. At some point, just like in any games, the game progresses past powerful champions of the past. I have concluded that Blade is not a top 3 skill champion anymore. I would rate Nick Fury, Aegon, Stealth Spidey, and Hit-Monkey above him. There are other scenarios in which he may be even lower in the standings, such as bleed immune champions to name one. If I'm being completely honest, I have had these thoughts of Blade since I finished Act 5, but I have been too afraid to share them. I am not afraid anymore! I have seen the light. Blade is by no means a bad champion, he's still a good champion, but has been outclassed by many other great champions. Please tell me if you agree or disagree in the comments below as I would love to discuss this controversial topic.