**KNOWN ISSUE**
Currently, Alliance Prestige (as it concerns Alliance Quests) is not taking Relic Prestige into account. If possible, we are working to address this for the next round of Alliance Quests but will have more information for you when it is available.
Known Issues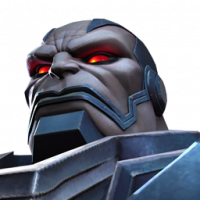 Kabam Miike
Posts: 7,585
Administrator∙Moderator ›
This thread will contain a living list of all issues that we identify and are actively working on. Progress reports will also be posted here.



Players may see the option to enter Modok's Lab again before their cooldown is over


The team is aware of this, and it will not actually allow the player to complete the Lab a second time. Players who try to enter a second time will just be removed from the Lab with an error message. Once the cooldown is over, they'll be able to enter again normally.


---
There are a few more reports of things floating around that we've not yet confirmed is or is not a bug, we'll stick with replies in those individual threads until we can confirm either way. Then, we'll add them to this thread.
Thank you to everyone that provides detailed reports!
Post edited by Kabam Wolf on
This discussion has been closed.