Earlier today, there was an issue where Summoners that logged on shortly after the Login Calendar switched over for the day didn't receive the Cosmic Ghost Rider login crystal. We've fixed the issue for players receiving the crystal now but will have to collect data and send out the crystal to all players that didn't receive it next week. We apologize for this inconvenience and look forward to making it right for you all.
How would you use 100x generic 6* Sig stones?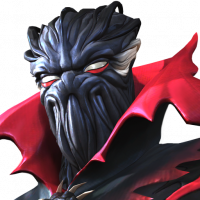 Wozzy101
Posts: 667
★★★
Ok, so I have a rank 3 awakened ghost at Sig 43. I have 100 generic sig stones that I could pump into her.
So I guess I'm looking for a view whether to keep these 100 saved in case I dupe CAIW who I could take to rank 3 if duped. Or if I should keep them saved for someone else.
Is there another character in my 6* roster you'd save them for? I have both Aegon and CAIW are 5* sig 200. So would you even bother to take these to rank 3?
I've had these sig stones for a while but given there potential impact want to use them wisely.
Just looking for a community perspective on this. I'm not the greatest Ghost player but I'm improving.

Post edited by Kabam Ahab on