How would you use 100x generic 6* Sig stones?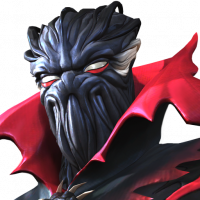 Wozzy101
Posts: 678
★★★
Ok, so I have a rank 3 awakened ghost at Sig 43. I have 100 generic sig stones that I could pump into her.
So I guess I'm looking for a view whether to keep these 100 saved in case I dupe CAIW who I could take to rank 3 if duped. Or if I should keep them saved for someone else.
Is there another character in my 6* roster you'd save them for? I have both Aegon and CAIW are 5* sig 200. So would you even bother to take these to rank 3?
I've had these sig stones for a while but given there potential impact want to use them wisely.
Just looking for a community perspective on this. I'm not the greatest Ghost player but I'm improving.

Post edited by Kabam Ahab on