Summoners, due to a technical issue, this week's series of Alliance Quests will be cancelled at 4pm PT. There will not be any Rewards for this series. The next series of Alliance Quests will start on April 18 at 12pm PT. We will be assessing the impact on Alliances and compensating accordingly, as well as returning Alliance Tickets.
Close Encounters Node on Map 5 Emma Frost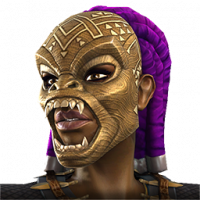 Mystic_Mane
Posts: 46
★
It seems the AQ map 5 Emma Frost miniboss has been updated to include the "Close Encounters" node. This node is not at all balanced for the boss fight and is going to cause many alliance members to drain resources for a free AQ map.

With 3% degen per second while far away, you lose about 10% health every time Emma Frost launches a special (even dodging with dexterity). But due to her Diamond form, staying close to Emma is difficult as she won't be parried and will beat you up with block damage. Staying close also makes it more difficult to bait special attacks. With "Close Encounters" added there is no good way to approach this fight. You either lose health up close, or degen while far away as she power gains to L3.

It's difficult enough that Emma Frost has "Powerful From Afar", but still least without degen, you could attempt to bait specials. The new node is total nonsense and was obviously added in to get free players to drain resources.