Who are your top 3 hardest incursions champions to fight against?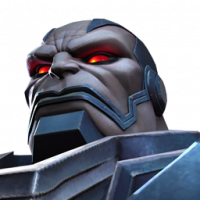 KDSuperFlash10
Posts: 5,869
★★★★★
for me

1. INVISIBLE WOMAN
- Got wrecked/bamboozled/railed by an Invisible Woman in incursions about half an hour ago, hardest individual fight I've ever done (tbf I took a 60k sp2 to the face with my best counter, Claire, but we won't talk about that)
2. NAMOR
- Invisible Woman's secret love, Namor has caused me problems in incursions twice in recent times with his massive trident which always seems to pierce my soul. I even took a Namor sp3 through imperius rex's activation + his trident is scary.
3. HUMAN TORCH
- Hands down hardest sp2 in the game to dex, that man comes flying and I see my health bar melt away... Also those smoulders build up quick cuz his sp1 is very very sketchy

Honorable Mention: Storm Pyramid X - She's always in some late room paired with some CRAZY attack/power bonus nodes that make her unblockable sp2 a deadly force of nature

My list is based on personal experience so what are your 3 hardest incursions champs to fight against?