A champ who is soooo close...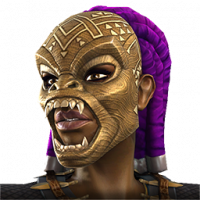 WorldWarEG3
Posts: 27
★
So I'm just wondering who everyone thinks is a champ who is soooo close to perfection but just missing that one or two things that'll push them further. Now I'm not talking about someone who needs a rework or buff...more like someone who is good but could be even better with a minor tweak in stats or playstyle.

For me it would be Darkhawk...his damage after S3 is above average and being able to regen every mode switch is so nice. His damage though with S3 still feels very underwhelming. Also it's annoying to get one of your mode switches, you need to be knocked down....not something I like to do since that's damage you have to take. And sure you could say he's more of a tank style play through, but technically so is Guardian but his S2 damage after 4-5+ charges is insane.

That's just one person I like who deserves maybe a little bump in stats to make him fun. What are everyone else's?
Post edited by Kabam Ahab on