A semi-hot take on recent content from a mid-game player's perspective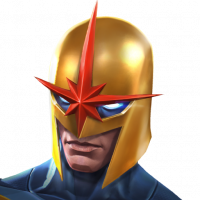 Sal_Hudson
Posts: 15
★
Hey guys, I'm Sal Hudson and I'm here to have a little bit of a discussion with you guys about recent content. But as you might have read from the title, this is from the perspective of a mid-game player. "Why does that even matter?" you may ask. Well, it kinda doesn't, but I thought that since I'm somewhere between mid-game and endgame that it would make my take interesting to read about.

So what is my take?

I'll tell y'all in a sec, but first, let's analyze content released before the backlash. Firstly, 6.4. Niche as hell in some parts. But it was tough. I actually love 6.4 in it's current state. Not too much changed, besides the absurd attack. However, there are some people that do like stupid attack values! There was also the 7.1 beta (the first one), that didn't technically get released, but it was scheduled to. Essentially, it was 6.4 with bosses that were even more niche, attack that was even more absurd, and content that was VERY hard.

Then the backlash happened. People expressed that they were pissed about the content design, me included. Then Kabam came and completely changed things for the better!

Or did they?

As of late, the forums have been FLOODED with complaints about the game being too easy. Prior to the backlash, it was the other way around. "The game's too hard!" "Too restrictive!" etc. Of course there are always gonna be upset people, regardless of the content, but still. So here comes my (somewhat) hot take on the two types of content design:

I think both of them are bad.
Now before y'all destroy me with comments about nothing of relevance, let me define my definition of 'bad' in this instance. Both had their major flaws and there's no arguing that. The old content design was overly punishing imo. Kabam seems to be extreme with their content design, so we seem to only get one or the other. Do we NEED punishing content in game? Hell yes! But if that's the only content you get, it can start getting frustrating for those just trying to do fun content.

But that statement goes both ways, too.

You cannot realistically tell someone who loved the old game design to just 'get over it' because it benefits most players. Neither should the people who loved the old game design tell people who complained about hard content to basically "F off". But I wanna take some time to empathize for those who love hard content. Since the backlash, what content have we gotten guys? Well we've gotten v6/7 and 7.1. I can confidently say that as a mid-game player with slightly above average skill that none of those pieces of content are hard.

V6 was half a cheese fiesta and half of some somewhat specific content. But the hardest fight in the variant was a… stacked version of terrax? V7 is EASIER than 6! Now granted, I had a lot of fun with both, but v7 is a joke, difficulty wise. You might as well just hand me the expo shards now with how tricky it is. 7.1 is similar. I feel like 7.1 was a new beginning, so I will cut slack there. But 7.1 was also too easy. For reference, I did 7.1 expo within a week of release, with like 16 champs at r5+.

Now here's a question: If a mid-game player finds recent content super easy, can you take a WILD guess at what deep endgame players feel like rn? If you read the forums and actually put yourself in their shoes, you know already. If you're still in the dark, they probably feel like people who like fun content, pre-outrage. Like the content is just dull and dry and there's no way to get something that you enjoy. That's not healthy.

So what do I propose as a solution? And if you're about to say, "wait for 7.2 or SOP", don't. I was on the 7.2 beta. Did every path. Some paths up to 4 times. It's not hard. I soloed one of, it not the hardest fight in there first try. SOP has been delayed so many times, it's not even funny anymore.

So anyways, my solution is a BALANCE! An alternation of sorts.

Essentially, every other piece of content that comes out follows each design philosophy. If big content was to drop every 2 months, then every 4 months, each side should get something to satisfy them. For people who love super fun content, that could be a fun variant. For the sweats, it could be summer of pain. If you wanted to take that a step further, each variant could alternate between being fun and being restrictive.

I personally think that's a good solution, because it could finally end the drought that deep end-gamers are in, while retaining fun content that people enjoy. What are you guys' thoughts on this? But before I go, one last thing. Let's use our heads in the comments please. Empathize for both groups of people.