UPDATE: A new Hotfix (v32.2.3) is now being released to address this issue. Please keep an eye on your App Store for this update to address the below issue.
We are currently experiencing an Error when Summoners view a Champion's Synergies while in the Champion Selection screen in Arenas and Duels. We are aware of this issue and are working on a Hotfix to address it. In the meantime, please avoid using the synergy menu to prevent this error and crash. We apologize for this inconvenience. Updates will be posted here:
https://forums.playcontestofchampions.com/en/discussion/293506/error-when-looking-at-synergies-from-champion-selection-screen
Why the arena scores for Hercules don't signal how broken the system is
SpideyFunko
Posts: 19,008
★★★★★
Since people saw the high arena cutoff for six star Hercules, (170,280,131 to be exact) there have been some posts and comments about how the system is broken, and how this spells doom for the arena system going forward. These concerns are somewhat valid, as this score is on the high side and the general playerbase doesn't want to grind out that much for a six star, with what the unit cost to refresh and the sheer roster depth required. Not to mention it's an utter time sink and most of us have real life responsibilities. However, this score is at this point, incredibly rare and is not the norm, and therefore shouldn't be fussed over. Now, those of you of the aforementioned "What's next, 250 mil?" group may not simply take my word for it, so I have some data compiled from
https://www.reddit.com/r/ContestOfChampsArena/
about the previous featured arena scores, along with some basic math for comparison.
The first round of the Black Widow Deadly Origin arena was run a week ago. She was the featured champion, and 95th place on the leaderboard netted a six star version of her with 79,229,316 points. Doing the math, that's a gap of 91,050,815 points between 95th in the BWDO arena, and 100th in the Hercules arena. Now, you may be saying, "But Spidey! BWDO wasn't a new champion, this comparison isn't fair!" Well, let's take the scores from the Overseer arena and compare with the ones from Hercules just like above. 95th place in the Overseer arena was given with a score of 140,500,125 points. Again doing the math, this time our gap is a much smaller 29,780,006 points. Still almost a gap of 30 million. But once again, I can hear your voice: "But Spidey! Overseer is a mediocre science champion unlike the hyped beast that is Hercules!" Alright, fine. Why not the scores from the Shang-Chi featured? This time, we can compare two number 100 scores. The last spot to get a six star in the Shang-Chi arena was achieved with a whopping score of 129,236,072. That equates to a gap of 41,044,059 points.
As the data and comparisons show, this first round of the Hercules arena was very high, even by the standards of the arena. And why is that? There's a very simple answer to that question. The arena system isn't broken. Hercules is. You don't believe me? Let's begin. First off, let's hit the suicides angle. Is he friendly? Yes. He takes 50% less damage from bleeds, up to 80% if you run max coagulate. He takes 15% less damage from poison and reduces it's healing reduction 20% less effective. He also has a synergy with himself that gives him +15% attack while suffering from the poison applied by Liquid Courage. Getting into his feats of strength, the main way he deals damage. He can get a feat in one of three ways: Intercepting the opponent, hitting a non stunned opponent with any hit of a heavy attack, and standing up after being knocked down. These can stack up to twelve and each feat of strength gives him 186.96 armor penetration and all attacks deal a burst of physical damage equal to 10% of the damage they dealt. When Herc completes a feat, he gains +50% buff duration and 1001.28 attack rating for 2 seconds. If Herc uses a special attack during that 2 second window, the bonus remains until the special attack is finished. Additionally, the first time a unique feat is completed in a fight, he gains a persistent charge. When Hercules starts a fight with persistent charges, he starts the fight with a number of strength equal to the number of persistent charges. Now this gives Hercules, when at 12 twelve strength, the ability to deal an additional 120% of damage on top of his basic attacks.
You're thinking, so what, it's just damage. Ghost has damage. Doom has damage. In addition to this damage, whenever Herc has a feat of strength, he becomes stun immune. Anytime he would be stunned, he just loses a feat instead. Encroaching stun, mesmerize, etc. As long as he has strength, he isn't affected. If he dashes back after the first medium or light in a combo he inflicts a 7 second Infuriate debuff, which reduces the opponent's offensive ability accuracy by 60% and makes them more aggressive, which allows for easier intercepts and helps to work around passive ai. Now, onto his specials. His special 1 gives a precision buff increasing his crit rate by 2150 for 25 seconds, but if you intercept the opponent with the special 1 you gain an additional two more. It also gives a true sense buff allowing him to ignore miss and auto block effects for 16 seconds. This makes him an option for Tunnel Vision or any pesky auto block/miss champions you may have problems with. His special 2 gives a 15 second cruelty buff increasing his critical damage rating by 1262.7. As with the special 1, if he intercepts the opponent with this attack, he gains two more. Also inflicts a three second stun debuff at the end. These two special attacks combined make him not only crit very often, but they also pack a real punch. Adding on his 120% damage from the feats of strength, and the opponents melt faster than ice in the sahara. His special 3 gives him a 4 second indestructible buff, and if the opponent has their special 3 afterwards he gets a power gain buff giving him a bar of power over 3 seconds.
Now for his signature ability. Along with giving him up to 35% combat power rate for 2 seconds after completing a feat, he gets an immortality buff that lasts from 3.9 to 9 seconds depending on his sig level. Now, normally this is a neat little bonus that can save you. However, what's unique about this immortality is that while Hercules is using his specials or landing his basic combo hits, this buff is paused. Meaning it can last a lot longer if you attack with Hercules. This is so so so incredibly handy and is yet another great piece of utility. For more on Herc and his wide range of uses, please check out this showcase by
@Karatemike415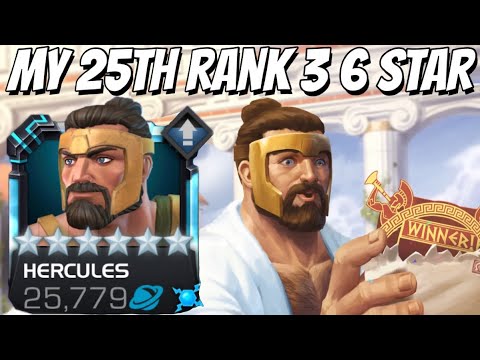 Plus, he's top 5 prestige in game. That's another big one.
This kinda deviated from an arena post to a here's what hercules can do post, but I hope you found it informative. As a reminder, the arena scores are not all going to suddenly become close to the 200mil range like Hercules, only when an incredibly broken champion like Herc comes around. Thanks for reading, and have a splendiferous day