UPDATE: A new Hotfix (v32.2.3) is now being released to address this issue. Please keep an eye on your App Store for this update to address the below issue.
We are currently experiencing an Error when Summoners view a Champion's Synergies while in the Champion Selection screen in Arenas and Duels. We are aware of this issue and are working on a Hotfix to address it. In the meantime, please avoid using the synergy menu to prevent this error and crash. We apologize for this inconvenience. Updates will be posted here:
https://forums.playcontestofchampions.com/en/discussion/293506/error-when-looking-at-synergies-from-champion-selection-screen
Corvus 5* r5 or 6* r2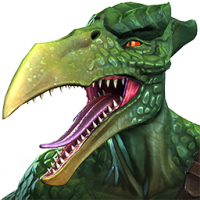 Captain_Dp7
Posts: 30
★
I have a 5* awakened Corvus, who I wanted to rank 5 soon. However, I got very lucky and pulled a 6* Corvus from a basic christal. Now I don't know what to do...
The 6* has more attac and a bigger health pool. Also it could be better in the long term to rank him...
The 5* is awakened, which is nice, and also he is cheaper to rank.
What would you do?