**BANQUET EVENT PSA**
To fully participate in the upcoming Banquet's Alliance Event you will need to be in your alliance for 14 days prior to the event's start date on December 20th. That means, stay in your alliance from December 6th onwards to enjoy all there is to offer in the Banquet event.
**Not Another Anime Reference Solo Event Returning**
This solo event has been fixed and will appear in game again on December 10th and will run through the 17th.
Reminder: This event is available to Paragon+ Summoners
INCOMING BUG FIX:

We'll fixing an issue with the Side Quests where all difficulties had the same Selector rewards.

We've fixed the Selectors in Threat Levels 4, 3, 2 and 1 to no longer contain rewards for Progression levels above the target audience.

Threat Level 4 rewards cap out at Thronebreaker
Threat Level 3 caps out at Cavalier
Threat Level 2 caps out at Uncollected
And Threat Level 1 has rewards for Proven
Black Cat is amazing vs. basically everyone in this Victory Track
Ercarret
Posts: 2,501
★★★★★
I feel like Black Cat is still heavily slept on so when a Victory Track meta that I knew she'd be amazing for popped up, I decided that it was time to let people know.
The reason she shines against basically every champion (as long as they are not immune to ability accuracy reduction) is that the entire theme of this season's nodes is, "you hit the opponent, bad stuff happens". If you hit the opponents with the same attack twice in a row, they gain a prowess buff. Additionally, whenever they gain prowess, they gain a passive Impact charge that makes them hit even harder through block.
However, all of these things can be shut down if only you had an attacker that doesn't care what happens when she hits stuff. Champs like Crossbones and Falcon probably work well too, but they don't actively benefit from these effects not triggering - they just prevent them from doing so. Black Cat, meanwhile, deals a burst of direct damage whenever an effect fails to trigger. Throughout the fight, this really racks up.
I recorded two fights against some of the meanest defenders out there to illustrate things. One is against a Rintrah and the other is against an Absorbing Man. Some things worth noting about the fights:
* My Black Cat is r5, the Rintrah was r4 and the Absorbing Man was r5, just for clarity.
* She can do this fight against Rintrah just as well without this meta since she prevents him from gaining any mystical charges with every hit as well. She wouldn't do as well vs. Absorbing Man without the current nodes, though.
*
I love her sig ability.
Don't feel like dexing Rintrah's big SP2? Don't worry about it and just dash into it. Her evade will do the rest.
* Make sure you actually
dash into
an attack for the evade to trigger. You'll see a botched attempt in the Absorbing Man fight where it almost cost me dearly. Not only did I get hit - I also almost messed up my own SP2 right after. Luckily, I managed to recover and then win the fight without any issues afterwards.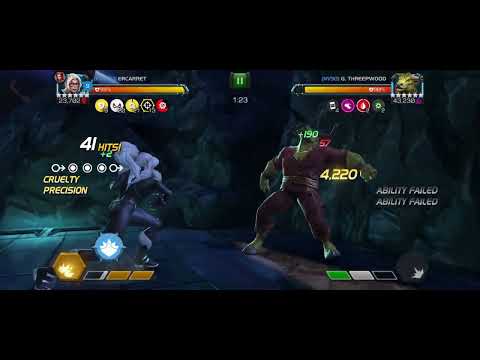 https://www.youtube.com/watch?v=ntACs7NRPBg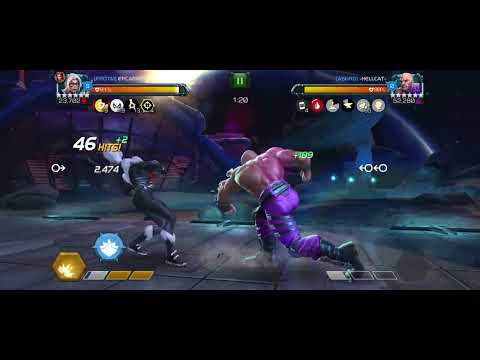 https://www.youtube.com/watch?v=c7iJ_LQNoNU