**BANQUET EVENT PSA**
To fully participate in the upcoming Banquet's Alliance Event you will need to be in your alliance for 14 days prior to the event's start date on December 20th. That means, stay in your alliance from December 6th onwards to enjoy all there is to offer in the Banquet event.
**Not Another Anime Reference Solo Event Returning**
This solo event has been fixed and will appear in game again on December 10th and will run through the 17th.
Reminder: This event is available to Paragon+ Summoners
The War on Cheaters Update - September 2023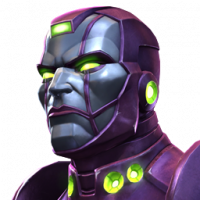 MCOC Team
Posts: 475
Administrator∙Moderator ›
Hello Summoners!

Season 10 of Battlegrounds was busy for the anti-cheat team as we monitored the leaderboard to ensure the integrity of our Battlerealm Brawl qualifiers. Over the course of the season, we developed a method to identify a new cheating strategy, as well as improved our detection for win trading. Both ended up paying off and impacted the final qualifiers for the Brawl. Congratulations to those who qualified fairly, we look forward to hosting you in Vancouver!

We believe our anti-cheat methods are in a pretty good spot. There is still work to be done, and we meet regularly to improve our detection algorithms, but we have active programs in place across the game, regularly banning modders in Battlegrounds, Arenas, Incursions and solo content.

With that progress made, we have had a chance to dive into the "shelling" problem in Alliance War. For those unfamiliar with the concept, some alliances have been using an exploit to modify the matchmaking parameters to their favor. This off season we carefully monitored the movement of players, and three alliances near the top of the leaderboard were clearly engaging in this anti-competitive behaviour. Today the officers of those alliances were issued temporary bans, and when they return they will find their shell alliances at the very bottom of the AW rankings. If they want to compete for the top rewards in AW, they will have to do so from their primary alliances. Given this is the first time we have taken action against this exploit we were slightly more lenient; consider this a 'warning shot' of sorts. In the future, any alliances that we catch shelling will receive harsher penalties up to and including permanent bans for all members of guilty alliances.

Additionally, we have had the time to take a closer look at mercenaries in Battlegrounds. A number of accounts have received escalating bans for being played by someone other than the owner. Those that were not banned permanently will be banned from the Battlegrounds game mode for three season.

Finally, there is already a post up about players exploiting the Enlistment gifting event, but we wanted to note this is still on our radar and there will be action taken before the end of the event. The most extreme exploiters will receive bans, and we will be taking additional action against some accounts.