**UPDATE**
We are currently working to fix a known issue regarding Alliance Prestige. With the introduction of Relics, Summoner Prestige is now the average PI of your Top 5 Champions and the average PI of your Top 5 Relics (regardless of which Champion they are attached to) combined.

Today we pushed a fix that will allow for proper reward calculations in Alliance Quests. However, the display for Alliance Prestige will not be accurate and does not include Relic Prestige. This is a display issue only.

GR or Hyperion to 5/65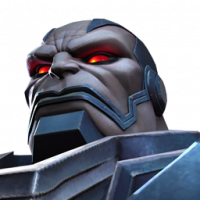 zuffy
Posts: 1,769
★★★★
I have all the resources except one more T2A. My GR is sig 176 and Hyperion is sig 70. GR has the much better prestige and many utilities. Hyperion is just a beast! Shockingly, his regen is not bad either. 145 a tick at 4/55.

I have a 5* generic gem, 5* mystic gem, 5* mystic 3-4 and 5* cosmic 2-3 gem. I don't have 5* Medusa, Blade, Voodoo, or Magik. I have 5* Sparky 3/45 sig 65 but don't want to use the T2A to rank up to 4/55 because I really want a 5/65.

Who would you rank up?
GR or Hyperion to 5/65
88 votes