**UPDATES TO ENLISTMENT GIFTING EVENT:**
To prevent exploitation, we will prevent new Accounts from being able to Gift enlistment crystals. We will also be taking action on those who are using 3rd Party Sellers, Bots and other farms to gift themselves mass amounts of Enlistment Crystals. Lastly, we will be adding an expiration timer to Enlistment Crystals. All unopened Enlistment Crystals will expire on Oct 18 @ 17:00 UTC. For more information, please see this post:
https://forums.playcontestofchampions.com/en/discussion/346104/updates-to-enlistment-gifting-event
Inequity bug fix (not?) - please clarify!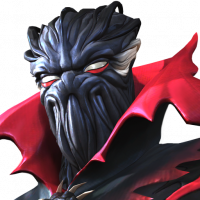 borntohula
Posts: 447
★★★
Hi,
Read this bug fix was about to go live 'within hours'. Woke up this morning to find that due to an unspecified 'underlying issue' it has been postponed to some unspecified time 'in the future'. Which could mean later today. Or the year 2121. I am not happy about that. At all.
As is, this (expensive) mastery is
not working as advertised
. Because it doesn't scale with increased attack, it is borderline useless in all harder content, including Act 5, AW, AQ and monthly quests. Eg, any content where it might actually be useful.
@Kabam Miike
could you please elaborate on (1) what the 'underlying issue' is? The way I see it, this mastery simply reduces attack (a fixed number, even if attack is boosted by a node) by x% if triggered. And more importantly, (2) narrow down the time-frame that it will be fixed. Are you actively looking into this or is it being back-logged? In other words; does 'future' mean today, this week or potentially months from now?
This is one of the few masteries that could negate some of the insane block damage in harder content, and I paid to unlock and rank it up. To read you have a fix ready, only to retract it, is not good enough.
Please clarify asap. Thanks.