**KNOWN ISSUE**
Currently, Alliance Prestige (as it concerns Alliance Quests) is not taking Relic Prestige into account. If possible, we are working to address this for the next round of Alliance Quests but will have more information for you when it is available.
New nodes have made the one game mode I still enjoyed unenjoyable.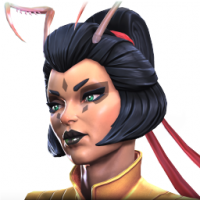 Treinin
Posts: 194
★★★
Apologies if this is TLDR for people, but I need to vent a bit.

I have been playing this game for ~ 10 months. At first, I enjoyed every aspect of it (even arena grinding).

One by one, my enjoyment of the game modes has diminished.

I finished story mode, which was a lot of fun, but there hasn't been new content there in 7 months.

Originally, the event quests were a nice challenge, but they have become fairly routine to me now and only uncollected has any enjoyment and it lasts me 1 or 2 days (maybe using 1 revive a month for the entire thing).

The 'challenges' that come along take some time, but most of that is auto-fighting through trash fights (can we please adjust so you can just go the highest difficulty and get the majority of rewards from that? There is 0 fun in fighting 200 PI champions with an account that is more than 1 day old).

Boss rushes are fun, but are a 30 minute affair.

AQ is tedious with the ridiculous timers and routine / simple fights over and over again. It really needs a true refresh and a rethink with respect to artificially making the mode take painful amounts of coordination.


This left Alliance War. The one mode I truly looked forward to. Honestly, on Tuesdays I would get a bit bummed because we couldn't search a new war right when the old one finished. I loved the challenge of these fights, and working with my alliance to get through the map.

Unfortunately - with these new mini-boss nodes (which feel harder than the actual boss in a lot of cases), this mode has also lost its appeal. While I enjoy a challenge, some of the combinations are just ridiculous. My alliance does not have developed enough rosters to have the perfect counter to all of the new "Fun and interactive" defenders that have been added to the game. Putting them on these insanely powerful nodes means someone in my alliance gets stuck every time. Even if I can get through my fight (assuming the linked nodes come down), I don't enjoy seeing my alliance mates feel like they are letting people down because they can't get through these fights.

At least having mini bosses at the end meant people could collapse a bit to help each other out, and nobody had to feel solely responsible. Putting the new ones in the early stages of the map just makes people feel like **** when they get stuck 4 fights into their path.

This game holds no appeal any more. I will keep playing because I have invested a lot of time, and some money in it, but if this doesn't get changed after Season 3, I don't know how long I can hang on to this.


Just my thoughts - sorry it was TLDR.