**KNOWN ISSUE**
Some items are displaying erroneous star ratings. This seems to be happening most on items where typically there are no star ratings. We have found the cause for the issue and it will be resolved, targeting mid-late next week.
Symbiote Difficulty Featured 5* Crystal Reward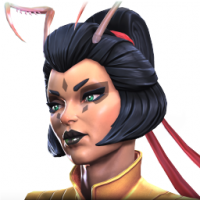 Schmidty0611
Posts: 28
★
@Kabam Miike
how does the featured 5* crystal reward for 100% exploration of Symbiote difficulty work since the featured 5* is changing right in the middle of this event? If you finish 100% and get your crystal before 10/23 do you get the crystal with the current champs and if you finish after 10/23 you get the new featured champs? Or is the crystal just gonna be the current champs no matter when you finish?