**UPDATE**
We are currently working to fix a known issue regarding Alliance Prestige. With the introduction of Relics, Summoner Prestige is now the average PI of your Top 5 Champions and the average PI of your Top 5 Relics (regardless of which Champion they are attached to) combined.

Today we pushed a fix that will allow for proper reward calculations in Alliance Quests. However, the display for Alliance Prestige will not be accurate and does not include Relic Prestige. This is a display issue only.

Banning Troll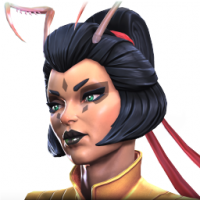 SaucySoyBoy
Posts: 1
My friend was recently banned from his account and phone because he was a hacker and wanted to see if he could still log on to his account on MY phone. But when he did so, the ban notification was still there. So I deleted the app on my phone and reinstalled and tried to log in to my account again. But the screen still comes up saying my account was banned. So I let my banned friend log on with my phone and now I have the 'banned screen virus'? Can you fix this Kabam? its really inconvienent and now I cant play the game.Thanks anyways.