What do you think of Seatin's June 2017 list on Champs worthy of an awakening gem?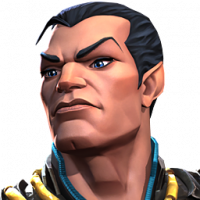 winterthur
Posts: 5,283
★★★★★
I have four of the champs in his list.
1/ Wolverine (awakened, sig 60)
2/ Star-Lord - I took Ultron instead to rank 4 for AW Defense
3/ Thor - still waiting and he is in AW Defense because highest rating in top 6 of my champs
4/ Drax - still waiting and used mainly in AQ

AW defense team
i/ Juggernaut (awakened, sig 20)
ii/ Yellow Jacket (awakened, sig 20)
iii/ Spider-man, Symbiote (for his special 1)
iv/ Thor
v/ Loki (for his special 2)

AW attack team
a/ Wolverine
b/ Ultron
c/ Elektra (awakened, sig 20)

If I get around to playing again, maybe put Ultron in defense and take out Thor but put Drax as attacker.

Other champions on roster.
Rocket, She-Hulk, Cap America, Ant-Man

If I want to balance my champions on AW and AQ, seems like can't follow his list.
Opinions? Thanks.