v23.0 Discussion Thread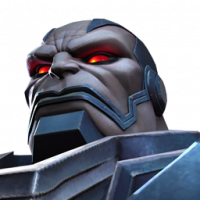 Kabam Miike
Posts: 6,786
Administrator ›
Summoners!

Version 23.0 is coming next week! This release features events inspired by Avengers: End Game (but doesn't contain movie spoilers...) and a number of performance fixes. Please note that there will be another release shortly after this one that features even more bug fixes.

Read about it here.

EDIT:Hey All!

As it looks like 23.0 is starting to roll out to everybody now, we wanted to make sure you're aware of 2 Known issues in this version:

- There is currently an issue affecting v23.0 where Summoners are unable to use Rank Up gems on their Champions. This will be addressed in 23.0.1, which will be coming in the next couple of days.
- There is currently an issue with Solo Objectives where if you have multiple completed Objectives, claiming one of them will award you with all of the rewards for the other completed Objectives. You'll still need to "claim" the others in order to move on to the next Objective in the Chain, but will not receive double rewards for them.

Post edited by Kabam Miike on