Corvus Glaive-A force to be reckoned with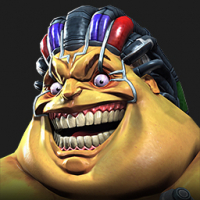 ItsAMeSarthak
Posts: 71
★
Now in my previous poll,you summoners have voted for Corvus Glaive as your guide. Hence I will show you summoners how to master Corvus Glaive.

Corvus Glaive has 4 missions to complete in his Persistent Charge and has 20 Glaive Charges with a True Damage Buff.
Glaive Charges make Corvus Glaive what he is-(A Mini-Thanos)
The missions are-
1)-Knock out a Tech class champion with Glaive
2)-Knock out an Avenger with Glaive(after this fighting another Avenger will give you 30 glauve charges)
3)-Knock out a Mutant class champion with Glaive
4)-Make an evading or auto-blocking champion fall down with either a Special attack or a Heavy

To be honest,Corvus is half powerful without these missions,it will be written in the tags of the champion you will be fighting against.(By the way,Spider Man(Stark Enhanced) is a "New Avenger" and cannot give Corvus a mission.

Let us come to Corvus's abilities-
-Whenever Corvus perfect blocks he applies a armor break debuff (The armor break can break the armor up debuff,stacking it up)
-Corvus in all his Glaive attacks has a guaranteed critical hit and uses one of his glaive charges per each hit(specials are not using charges)
-Corvus Special1
Corvus lifts up his glaive and throws a projectile
(This is useful in Medusa fights)
-Corvus Special2
Corvus dances with his glaive and throws the enemy in his final hit(unblockable with glaive charges and is the main point of damage,drains enemy's power if the power bar is full)
-Corvus Special3
A decent special,but not used in fights

Glaive Immunity-(Corvus does not take damage from Bleed,Shock and other common debuffs as long as he has glaive charges)

Tips for Corvus
Corvus UNAWAKENED-
-Start your attacks with a Medium,light and medium attack to maximize your damage for basic attack and repeat this till your charges are over.
-Save up till Special2 (with your charges) and fire it off
-Parry to get an armor break and heavy if you have your evading/autoblocking opponent
-Corvus NEEDS to get one of his missions tAvengerase his damage,he is not that useful without his missions Synergies-
Proxima Midnight-Convert your True Damage buff to a True Strike buff when completing your evade/autoblock mission.
X-23-Gain a Safeguard buff for the enemy's Special 2 after completing your Mutant mission
(Corvus is great without these synergies but these are just add-ons)

Corvus AWAKENED
-Corvus is death immune with his glaive charges and a glaive charge is consumed each time he was about to die and fills his glaive charges much faster IF you can spend all charges in 30 seconds
-Instead of using medium,light and medium, you can now use medium,light,light,light,medium

There you are summoners,
You have gained the ability to control Corvus
See you on the next discussion!