Champion Rebalance Information - February 2020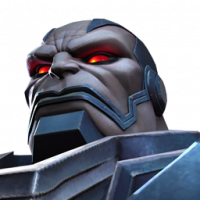 Kabam Miike
Posts: 7,493
Administrator∙Moderator ›
Summoners,

Thank you all for your patience as we worked to collect the Data that we wanted to present to you regarding the Balance Changes for Annihilus, Human Torch, Ebony Maw, Cull Obsidian, and Namor.

Below, you will find information on what changes you can expect for each of these Champions, as well as comparison data for these Champions' performance in various game modes, such as Act 6, Alliance Wars, Labyrinth of Legends, and Realm of Legends.

Aside from Realm of Legends, these areas are the areas of the game which we use to measure Champion performance as both Attackers and Defenders, against other Champions.

We use the data collected from across the game, compare and contrast to other Champions, and make data informed decisions as to whether or not these Champions are in a place where we feel they are balanced in relation to other Champions and content in game, or whether they need to be tweaked one way or the other.

As a reminder, here is our original post on the intention of Balance Changes, and why they were paused.
Timeline for Release

These changes will be live in game with our 25.3 release, which is scheduled for release on February 5th.

Helping you make educated Rank Up Decisions

With the release of these upcoming Balance Changes in v25.3, we want to make sure that we give players the opportunity to change their minds on rank up decisions made for the 2 Champions that had a tune down.

We have come up with a plan to allow players to regain any resources that were used on Namor and Cull Obsidian, including Awakening Gems and Signature Stones. This is not something we've done before, and the process is not as simple as Rank Down Tickets.

For any Summoner that feels that they would like to change their mind about Awakening or Ranking Up Cull Obsidian or Namor, you'll be able to sell these 2 Champions during a special 2 week timeframe (including 5-Star and 6-Star Versions). We will then identify all users that sold these Champions during that time, and return the Champions, any duplicates*, any Awakening Gems (Generic or Class), Signature Stones (Generic or Class), Catalysts, ISO, and Gold used on these Champions, within the coming month. For cases where a rank up gem was used, an equivalent number of Catalysts will be returned.

*If you received a Champion multiple times from Crystals/Arena, the Champion will be returned awakened, and with the appropriate number of Signature Levels.
This is our projected timeline:

Feb 5th: 25.3 Releases: Changes are live, and you'll be able to try them out in game.
Feb 10th - 24th: You'll be able to sell your Cull Obsidian or Namor during this 2 week window.
February 24th: Selling window is closed. Our team will disable the ability to sell these Champions.
March 9th: Projected date to return any Namor/Cull Obsidian that was sold, along with any Duplicates received, Gold, ISO-8, Rank Up Gems, Awakening Gems, and Signature Stones.

Any Cull Obsidian/Namor sold before or after this period is no longer eligible for this resource refund.

This does mean that you will be without your Champions for a couple weeks, so keep this in mind when you decide if this is something that you would like to do. We realize that this is not as straightforward as Rank Down Tickets, but we do not currently have the functionality to return all used resources in that way, though it's something we would like to look into for the future.

Please note: This is not the de-facto compensation for any and all changes to Champions in the future. Any changes that necessitate Compensation plans will be handled on a case by case basis, and bug fixes are not considered the same as an intentional change. All Champion rank up decisions you make are made with the knowledge that rebalance changes can occur down the road, and if compensation is given it may differ.
The Future of Balance Changes

At this time, we do not have a schedule for the cadence in which we'll continue Balance Changes. We will continue to do balance changes, but may do them incrementally, or in batches every 6 months or so, such as this one. The timing has not been decided.

There are already quite a few Champions that were released between the time when we started looking at these Champions, and now, and there will be many more released in the future. Based upon our early looks at our data, we are working towards identifying additional Champions in need of Balance Changes.

Our goal with our original cadence was to create a process with the least impact on our players, but that did not work. We're going back to drawing board, and want to be more inclusive and gradual.

We will let you all know when we have more information on Balance Changes moving forward, and don't forget to share your thoughts on the process with us as well.
Click the Links Below to see the Posts on the Individual Champions
Annihilus Rebalance Information
Human Torch Rebalance Information
Ebony Maw Rebalance Information
Cull Obsidian Rebalance Information
Namor Rebalance Information
Invisible Woman Rebalance Information
Post edited by Kabam Zibiit on