Guillotine 2099 Appreciation Post.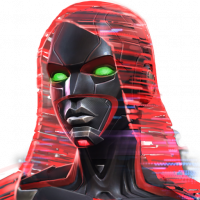 Kill_Grey
Posts: 2,324
★★★★
So, I got a 5* guilly 2099 on the 20th of August this year. As of today, she's sig 40 through natural dupes. Yes, I've pulled her 3 times in less than a month. Twice from basics, and once from a grandmaster crystal (surprisingly). I always told myself I'd take her up. I could finally take her up to rank 3 today, but couldn't take her further due to lack of cats and iso. As per usual, I decided to take her into RoL. And...oh boy!

I've literally done about 10 runs through RoL today, finishing almost every run with a full yellow bar! No items spent, only Nick Fury evade synergy was active (plus Ant-Man, yellow jacket and Heimdall. Didn't need Heimdall synergy once). Bro, this character is absurd in the amount of damage she dishes out! Soloing every single fight with ease, and bullying Rolverine without any care in the world!

I'd like to thank kabam for creating such a well-rounded character, and not "rebalancing" her later on. I can't wait to max her out and use her in act 6 and to stroll through LoL whenever I can, among other things...

So, how much do you like Guilly 2099?