Summoners, we recently encountered an issue with the Alliance Quest Setup Phase Starting Timer that may cause the Setup Phase Starting Timer to display erroneous information, though we are working on a fix for it as quickly as possible. Additionally, if the Setup Phase does not let you plan your days in advance, you will be able to once the Event officially begins on the Alliance Quest Start date.

For clarity, the next Alliance Quest Enlistment Phase will begin on December 5 at 20:00 UTC, regardless of what the in-game timers display.

The next Alliance Quest Start will be on December 6 at 20:00 UTC. This is when Summoners should be able to enter each Map. Thank you for your patience and understanding as we work to resolve this issue.
Alliance War Season Rewards will start to roll out to Summoners very soon. These will take a while to get to everybody, so do not worry if an Alliance Mate receives their rewards, but you haven't yet. We thank you for your patience.
Stealthy is Overrated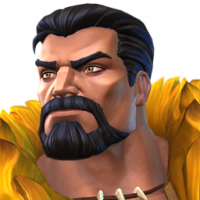 Polygon
Posts: 2,008
★★★★
It amazes me how some see him as a top 3 skill. Falcon's utility made his seem so limited. I'll go in more detail:

1) His block proficiency is only 54%, this is even lower than BWDO's. Meaning if you can't intercept proficiently, you're going to take a lot of block damage.

2) A full combo just to stop an evade? How does that even make sense, super contradictory and useless.

3) Why would I even bring him for evades when Falcon can do it so much more reliably and gains a huge damage boost. I'm not even going to mention Fury, who's much better for both evades and damage. Not to mention Falcon can do so much more

4) Okay he counters unstoppable, big deal? Id much rather use someone like Beardo who's far more sustainable and packs a boat load more utility.

5) I can just use another slow champ for unstoppable?

6) He's not suicide friendly since you're rotating sp1/sp2 for most of his use.

There you have it, take away his high damage output and all you've really got is an unstoppable counter. My stealthy is r2 and never gets use. If you personally ask me, even Sparky has more utility. Taunt, evades projectiles, power drain, stun, shock.