Due to an issue with Alliance War Defense Tactic, we will be ending this Alliance War Season effective immediately. This current War will not count towards your Alliance War Season Score. War Season eligibility rewards will be reduced to 2 Wars in the Season.

We understand that this is not a perfect solution, but without the ability to remove or freeze the War Rating quick enough, the rest of our Alliance War season would be compromised.

This war will remain active, and in-game, you will still see the season until tomorrow. After we end the season tomorrow, we will be taking some time to collect data and remove the changes to the Alliance War Season score. Once that is complete, we will be able to send out Alliance War Season rewards.

We apologize for the inconvenience.
Flashy animation off button?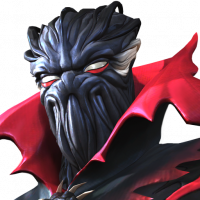 Amazing_Demon05
Posts: 2,849
★★★★★
Can we get this please?

Currently I have a useless 5* darkhawk? Why useless because he lags my device as soon as I use a special 3
at least dark hawk lags it when he uses a sp3 so I can fight against him

But vision aarkus is absolutely worse. And the upcoming nova also seems like he is gonna make my device cry.
I seriously hope you can add a graphic setting in the next month update or the next month EQ is gonna be un-doable for a lot of people.

Some people might say get a better device and I know obviously the games will get better and better and I would need to keep changing device from time to time to catch up But mine isn't that old or anything.
Not getting to play isn't gonna benefit me or either kabam so its only better for everyone to find a solution and I think as more and more people keep saying a graphic adjusting button is a good and viable option
just let us turn off the flashy stuff in some way so that It can work fine

The animations are appreciated, the characters are getting better and better but for those of us whose devices can't handle the animations for now please find a solution.