As we continue to work to address ongoing issues regarding Parry and Evade, we will be extending the Week 4 Quest of the Summer of Pain and its Solo Objectives by 1 week to better allow you to complete this content. This will not result in next week's content being delayed.
Can we have a middle difficulty in future Variants?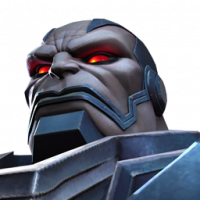 KDSuperFlash10
Posts: 5,860
★★★★★
I honestly get no hype out of variants because they're either stupidly easy (classic) or stupidly hard (variant). The Variant difficulty is mainly for endgame or near endgame players, which means that there is nothing for progressing players. I consider myself a progressing player (just finished Act 5 and can 100% explore Uncollected EQ every month). I feel like it's not too much to ask for a middle level of Variants that offers 4 and 5 star shards or something of the sort because Variants are basically pointless for progressing players and no hype comes out of it. I would love a middle difficulty! Please consider this Kabam.