Summoners, the Necrosword Crystals (the crystals in the Knull Cavalier Preview Bundle) currently have a higher than intended drop rate of 6-Star Champions.

We will be leaving the crystals as is for the time being, but will be correcting the drop rates before Knull receives his official release on October 28th. To ensure that this does not affect anybody that purchased this preview bundle, we will be auto-opening these crystals before that date, but this means you will not see what you received. To avoid any confusion, please open your crystals yourself ASAP.
What even is the point anymore?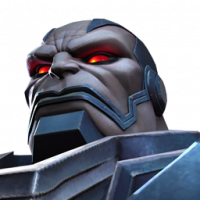 KDSuperFlash10
Posts: 5,869
★★★★★
Bad pulls after bad pulls, and the cycle repeats infinitely. I have now officially gone 0/25 in 5 and 6 star crystals. All of the champions you see on the screen I have pulled out of my past 25 crystals (barring Proxima and Night Thrasher, I've had them from before). I'm stuck on the 6.2.2 Mister Sinister with no firepower to throw at him and beyond him because I keep getting champions that will not help me in any way. To top it off, today my 3rd ever 6 star crystal resulted in a savage rollover from a Nick Fury to an OG Black Panther. He completes my awesome trio of OP 6 stars, Hawkeye, Gamora, and OG Black Panther. I know some of you will pick and choose some of these champions and say that they're useful in certain miniscule pieces of content, but let's be honest, most of them will do practically nothing for my roster. Others of you will just say "just another moaning thread about bad pulls" but I have a right to be somewhat jealous of players who consistently get great pulls. Is there even a point to keep playing? I put so much time into this game just to not get rewarded by anything good at all.