**UPDATES TO ENLISTMENT GIFTING EVENT:**
To prevent exploitation, we will prevent new Accounts from being able to Gift enlistment crystals. We will also be taking action on those who are using 3rd Party Sellers, Bots and other farms to gift themselves mass amounts of Enlistment Crystals. Lastly, we will be adding an expiration timer to Enlistment Crystals. All unopened Enlistment Crystals will expire on Oct 18 @ 17:00 UTC. For more information, please see this post:
https://forums.playcontestofchampions.com/en/discussion/346104/updates-to-enlistment-gifting-event
**KNOWN ISSUE**
We have adjusted the node placement of the new AW maps to better allow path traversal. As a result, defender placements have been reset. Please, take a moment to re-place your defender setup. We will be pushing out a message in-game shortly.
[June 9 - UPDATE] Android Log-In Issues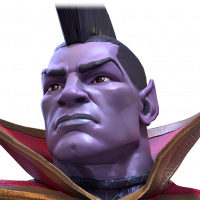 [Deleted User]
Posts: 724
★★★★
Hello everyone,

Thank you to the many players that sent us reports about the Android log-in issue. As you know, the game is back up. We are seeing a handful of players report that they are still unable to sign in, but these appear to be mainly isolated cases. If you are one of these players, please ensure that you are providing us with your in-game ID, your device information and your OS so that our team can investigate any outlier scenarios that need further attention.

Regarding questions about in-game items, how this has impacted events, and the collection of calendar items, as we mentioned on Twitter our team is currently discussing this matter. When we have more information on that specific topic, we will be sure to share that with you all. But I can confirm that we ARE discussing this and we do understand the concerns raised, as well as the impact this has had on our players.

Thank you for your patience!

If you are still unable to log in to the game, please provide the information requested above in your response to this thread. Note that comments not related to an ongoing log-in issue will be removed.

UPDATE: Hey Summoners,

Thank you for waiting very patiently for an update on the Android log-in problem that occurred on the morning of June 2nd.

Our investigation into this matter was lengthened due to the complexity of the situation - a number of different Android players were affected in several different ways. We also wanted to ensure that the issue itself was entirely resolved and would not crop back up again. During this time, some Android players were not able to collect items from their Subscription Cards, some Android players were not able to compete in Arenas, and some people missed out on collecting rewards from the Log In Calendars.

To address these issues, we are taking a number of steps:

First, any affected players that had purchased a Subscription Card will have the rewards for that day granted to them, regardless of whether or not they were able to claim the rewards that day.

Second, we will be adding an extra flex day on the end of the Monthly Calendar for all players. This means that if you missed a day, you still have an extra day to claim those rewards.

Last, the trickiest one, addresses the players that were in Arenas. We will be issuing all players that reached Ranked Rewards in each of the Arenas a number of Arena Boosts and Stamina Refills, the amounts of which will be determined by which Arena you were competing in.

You may be wondering how we decided on the Arena Boosts and Stamina Refills for players in the Arenas. This was a complicated situation where not all players were affected, and those that were, were once again affected in different ways. Many players that were locked out were still able to Rank and win top prizes, and many had already reached their goal before they were locked out and received top rewards as well.

Players reacted to the situations very differently, with some continuing to grind after the fact, and some deciding to stop. There is also no guarantee that having that extra time would have given players a chance at winning the Champion, because cut offs would also have changed. Being close to what the cut off was now doesn't mean that you would have been had the situation been different.

We chose to give all affected Summoners Arena Boosts and Stamina Refills to help them make up the time and effort in a future arena of their choosing.

Thank you all for your patience in this matter, and we are very sorry for the inconvenience that was caused by the down time for all of our Android players.
Post edited by Kabam Miike on
This discussion has been closed.