Summoners, the Necrosword Crystals (the crystals in the Knull Cavalier Preview Bundle) currently have a higher than intended drop rate of 6-Star Champions.

We will be leaving the crystals as is for the time being, but will be correcting the drop rates before Knull receives his official release on October 28th. To ensure that this does not affect anybody that purchased this preview bundle, we will be auto-opening these crystals before that date, but this means you will not see what you received. To avoid any confusion, please open your crystals yourself ASAP.
Updated Venompool synergy teases a new champ!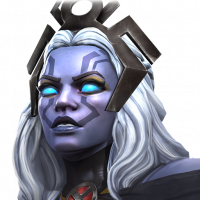 Unio77
Posts: 2,092
★★★★★
Was just casually reading the notes for his buff when I crossed paths with this:
Considering how the other champs in this synergy have a history with moving between time and taking into consideration the name of the synergy, I think it's safe to assume that this unknown and upcoming champ will have something to do with the manipulation/travel of time.
Now I'm not well versed in characters who have a history with this so feel free to leave your thoughts and suggestions below on who it could be!