Earlier today, there was an issue where Summoners that logged on shortly after the Login Calendar switched over for the day didn't receive the Cosmic Ghost Rider login crystal. We've fixed the issue for players receiving the crystal now but will have to collect data and send out the crystal to all players that didn't receive it next week. We apologize for this inconvenience and look forward to making it right for you all.
Updated Venompool synergy teases a new champ!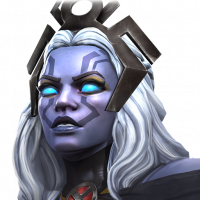 Unio77
Posts: 2,088
★★★★★
Was just casually reading the notes for his buff when I crossed paths with this:
Considering how the other champs in this synergy have a history with moving between time and taking into consideration the name of the synergy, I think it's safe to assume that this unknown and upcoming champ will have something to do with the manipulation/travel of time.
Now I'm not well versed in characters who have a history with this so feel free to leave your thoughts and suggestions below on who it could be!