**Known AQ Bug**
We are aware that some alliances encountered a bug during this last AQ that would not allow them to start maps on certain days. We know this has impacted your rewards.
We have been looking into the cause of the problem and once we have resolved it we will explore how to make things right for the impacted alliances. We will provide any additional communication in
Summoners! The Tiered Unit Offers available during the Summoner Celebration sale are only available until July 4th at 10 AM PT, unlike the Unit Store offers, which are available until July 5th at 10 AM PT. We apologize for any inconvenience or confusion this may cause.
Phoenix Cav monthly quest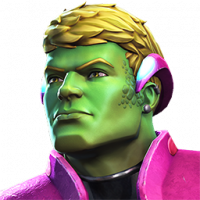 Macheneso
Posts: 22
★
Honestly whoever designed this fight is pure evil.
Not only you cannot see anything on your side of the screen since there are already 4 icons for the fight nodes (whiter, power gain, falter and whatever) on top of that you have your own combo metre, given you have as well 3 icons such as dex, let's say glaive charges or aura of doom then you cannot even see the falter icon, then she will just regen and go to sp3 one shotting pretty much anything. Start over and she will proc regen again.
That's it. Pure evil.