**UPDATES TO ENLISTMENT GIFTING EVENT:**
To prevent exploitation, we will prevent new Accounts from being able to Gift enlistment crystals. We will also be taking action on those who are using 3rd Party Sellers, Bots and other farms to gift themselves mass amounts of Enlistment Crystals. Lastly, we will be adding an expiration timer to Enlistment Crystals. All unopened Enlistment Crystals will expire on Oct 18 @ 17:00 UTC. For more information, please see this post:
https://forums.playcontestofchampions.com/en/discussion/346104/updates-to-enlistment-gifting-event
7* Rank 1 Level 1 Base Stats (Based of Elder Sidequest)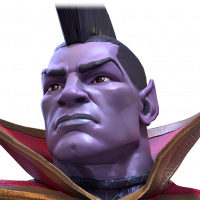 Xylph
Posts: 20
★
If you've played the new Elder Sidequest you've noticed we have 7* and of course their Health and Attack values show up, if you calculate and remove the Health and Attack Bonuses given from the Global Nodes the average Rank 1 Level 1 7* would have 50k Health and 4.5k Attack which is about 6* R4? Correct me if I'm wrong. Also 7* have 6 ranks now as well, the opponents say rank 1/6 so interesting. In any case are those values just there for the side quest since final values haven't been decided yet? Or could this be a real approximation of Base 7*?