Back Issues #2: Mystery in the Microrealm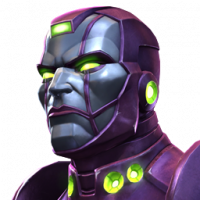 MCOC Team
Posts: 393
Administrator∙Moderator ›
Once upon a time, an intrepid thief followed the trail of mysterious happenings in The Battlerealm. Little did he know this tiny curiosity would lead to some of the biggest changes in all of The Contest!

Introducing, Back Issues #2: Mystery in the Micro-Realms!

As the Contest has grown and evolved we've introduced many Event Quests, each with their own unique stories, and many that have expanded on the mythos of The Battlerealm and The Contest of Champions. We want to give Veteran Summoners a way to relive those moments, and newer ones that weren't with us at the time a chance to experience the stories of the Contest that they had missed out on!

This Event Quest is available in TWO difficulties:

CLASSIC difficulty is a recreation of the original quest. While not completely 1:1, the layouts, difficulty, and dialogue are all the same as you remember. Take a stroll down memory lane and see how far you've come, or experience a quest you never got the chance to play!

VARIANT difficulty is a new spin on the quest, available for Summoners level 40 and up. This version features extreme challenge, new opponents, updated map layouts, and new combat effects for the boss fights. This quest will test even the mightiest of Summoners, so be prepared! You can find out more about the challenges you will face in Variant Difficulty in our latest Dev Diary post here: https://playcontestofchampions.com/dev-diary-added-difficulty/

The Variant Challenges!

Variant Difficulty will test not only your skills, but your knowledge of Champion abilities, immunities, resistances, and counters! Those who rely on only a few Champions will find the need to diversify.

Unlike Back Issues #1, there will not be explicit gates (like Class or Rarity), but instead we'll be applying Global Buffs that strongly encourage the use of certain Champions. In this case, it's XL Champions. All quests will make use of Micro-Reflect, Size Matters, and Particle Protector; effects you might remember from Evangeline Lily's Champion Challenge last year. (But appropriately souped up.) On top of this, the new Runaway Express and Cultivating Mass Buffs will give XL Champions further advantages beyond their ability to ignore Particle Protector. Finally, Quests 1-3 through 3-3 will also feature Buffs that will benefit bringing in certain XL Champions!

Take a look at the new Buffs you'll be combating or benefiting from:




Remember Summoners, Variant Difficulty is going to be HARD! The good news is that Back Issues are permanent content, so if you're not able to take Variant Difficulty on right now, take all the time you need and come back to it when you feel you are better equipped!

Rewards:

For completing and mastering all of the Classic quests, you earn:

Tier 2 Basic ISO x4
Tier 3 Basic ISO x22
Tier 4 Basic ISO x6
Gold x12250
Units x225
Tier 1 Alpha Catalyst x1
Premium Hero Crystal x3
3-Star Hero Crystal x1

For completing and mastering all of the Variant quests, you earn:

5-Star Rank 2 → 3 Gem Crystal x3
5-Star Rank 3 → 4 Gem Crystal (2015 Champs Only) x3
5-Star Rank 3 → 4 Gem Crystal x1
5-Star Rank 4 → 5 Gem Crystal x1
5-Star Awakening Gem Crystal x1
5-Star Crystal x1
Tier 5 Basic Catalyst Fragments x27000
6-Star Crystal Shards x2250
5-Star Signature Stone Crystal x48
Gold x2,100,000
Units x360

This Quest will be available starting Wednesday, April 10th at 10 am PST! Remember, this is permanent content, so you can take your time completing this throwback!