**UPDATES TO ENLISTMENT GIFTING EVENT:**
To prevent exploitation, we will prevent new Accounts from being able to Gift enlistment crystals. We will also be taking action on those who are using 3rd Party Sellers, Bots and other farms to gift themselves mass amounts of Enlistment Crystals. Lastly, we will be adding an expiration timer to Enlistment Crystals. All unopened Enlistment Crystals will expire on Oct 18 @ 17:00 UTC. For more information, please see this post:
https://forums.playcontestofchampions.com/en/discussion/346104/updates-to-enlistment-gifting-event
Which Mutant to R5? Archangel vs. Colossus!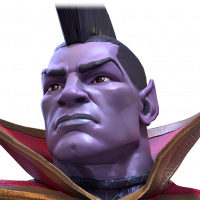 RoOOts
Posts: 234
★★
Hello fellow summoners,

which 5 * Mutant champ would you R5 in my case?

Archangel or Collosus?

I already have Domino at R5.

My other R5 are DH, Ghost, Hyp, Venom, SS, Aegon, Quake, Void.

Don't have 5* Emma Frost or OR.

Im cavalier, have done most variants, and one run through 6.2. would like to try one run through 6.4 soon.

Additional Quesions:

-I could lvl up each one of them pretty high. Which sig lvl would you recommendnfor each char?

Are there any other really good/necessary synergy do consider?

Thank for your help!

BG

Ro00ts
Which Mutant to R5? Archangel vs. Colossus!
34 votes