Due to an issue with Alliance War Defense Tactic, we will be ending this Alliance War Season effective immediately. This current War will not count towards your Alliance War Season Score. War Season eligibility rewards will be reduced to 2 Wars in the Season.

We understand that this is not a perfect solution, but without the ability to remove or freeze the War Rating quick enough, the rest of our Alliance War season would be compromised.

This war will remain active, and in-game, you will still see the season until tomorrow. After we end the season tomorrow, we will be taking some time to collect data and remove the changes to the Alliance War Season score. Once that is complete, we will be able to send out Alliance War Season rewards.

We apologize for the inconvenience.
Are you going for the 6* featured or sticking with the basic ?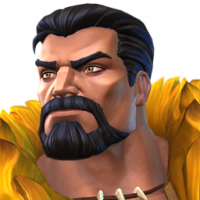 Polygon
Posts: 1,996
★★★★
Just curious what everyone's play is here. Typically, the sub-feats for these are notably bad, but this time aside from Hercules, there's Diablo and Torch (still way too many misses though imo).
I was actually curious what the difference in the odds for the featured vs the basic were because although the featured costs an extra 5k shards, there's a much smaller pool of champions in the featured.
Nevertheless, I did a quick comparison of the two taking into consideration the cost of shards and the size of the pool. At least for me, it showed that the featured actually had the higher odds. However the problem here is, as you pull more of the champs you want in the featured, the odds begin to favor the basic pool. In my example shown, with 7 targeted champs in the feat, the odds are in favor of the featured, but once I pull one of those and have 6 to target, the odds become equal.
Which crystal are you going for?
Are you going for the 6* featured or sticking with the basic ?
289 votes