**Attention Summoners**
Due to issues surrounding Defensive Tactics, points from the current matchup in Alliance Wars will be removed after the season.
War Rating will remain untouched.
We are reducing the minimum matchup cutoff from 5 to 4 for this season.
We will continue to monitor the impact of this decision.
Battlegrounds: Addressing Concerns and Future Improvements Dev Diary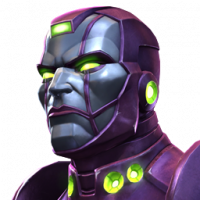 MCOC Team
Posts: 429
Administrator∙Moderator ›
Since the Battlegrounds launch, we have seen a passionate response from our community. Battlegrounds is a fundamentally different game mode than anything else we have offered players in the past, and as with any major change we know iterative design is going to be needed to get it right.
The community has already seen some of this in action. For instance, at the launch of Season 1, the community was unhappy with the meta-system design. We quickly reworked the systems and re-tuned the rewards, and now the Battlegrounds store, Battlegrounds ranked rewards and Battlegrounds events are in a much better place.
However, we know there is much more work to be done. This post will address these concerns as best we can at this point in time. We know the uncertainty around solving some of these problems will not please everyone, but we want to be as transparent as possible. This post will not address input related issues that affect the entire game; for our response to those concerns, see the
"Why is it So Hard to Navigate Input Issues?" post.
Bugs
First and foremost, we have heard from a number of Summoners regarding the bugs some of you are encountering within Battlegrounds matches. The top priority issues we are currently tracking are:
Players receive 0 Victory Medals from winning a match.

Players are auto-assigned their first draft pick.

Players are unable to choose Defenders/Attackers during the draft.

Opponents forfeiting appears in the Match History as a Loss.

Opponents forfeiting shows the match result from the prior opponent.

Fights begin with less than the intended time of two minutes.

Fight outcomes are not being captured resulting in the player having to repeat the fight or an immediate loss.

The Team has been hard at work resolving these issues and are even working to both implement new tech to make it easier to identify and reproduce these issues internally and to ultimately address them as soon as we can. Fixing bugs in Battlegrounds is a major priority for us.
Cheating
The battle against cheaters has been a constant tug-of-war. As far as we can tell, cheating peaked in Season 3, when our autodetection systems were having some issues. We solved those problems, and in Season 4 we were able to provide a much cleaner experience for most Summoners. Unfortunately, the cheaters have become more sophisticated, and in Season 5 we again saw an uptick in cheating - not nearly to the levels we experienced in Season 3 but more substantial than in Season 4.
In the short term, we are addressing this problem by modifying our cheat detection algorithms to make them more effective. Thankfully, we now have millions of data points to work with and we believe we can dramatically improve these systems to combat cheating starting in Season 6.
In the long term, we are working on some fundamental tech solutions that will completely change the landscape and make it much more difficult to cheat in our game. These tech solutions will take time, but we wanted to let you all know they are coming.
You can all help us by reporting suspicious matches using the in-game report function. Please however do not report every account you lose to. There is a group of players who are doing this, and it is thoroughly unhelpful.
We also wanted to note that we are aware of other poor behaviour happening at the top of the leaderboards, with players manipulating the queueing system to win trade and block Summoners from finding matches. We are working on solutions to these concerns as well.
We are committed to winning this fight against those who cheat to get ahead. It will take time, but we will not give up. We thank you all for sticking with us as we continue to make progress.
Victory Track, Matchmaking and Climbing
Recently
@DNA3000
posted a great overview of the concerns related to the Victory Track (VT), matchmaking and the ladder climbing experience
. The three areas he identified in that post were already the three areas we were looking to address, so it was great to see some reinforcement of the problem space. We don't align on some of the solutions in that post, but the problem description is spot on. In short, those three interrelated problems are 1) the way the season reset is handled 2) concerns about matchmaking, and 3) the system that allows players to climb (or get stuck) in the Victory Track.
Season Reset

Every season, all players start at the bottom of the VT, leading to a gigantic mismatched pool of Summoners and a long grind for those who play for the Gladiator's Circuit every month. To address this, our plan is to seed players to start the season. We are working on a system that will allow us to seed players based on where they finished the season before. We also need tech that will allow Summoners to earn the rewards for the VT ranks below where they are seeded. Both of these tech solutions are being worked on right now, but we don't currently have an ETA. It will not be for at least a few seasons.
Matchmaking
Many Summoners have concerns about matchmaking, and we absolutely understand the wide range of perspectives on this topic. We know that the experience is not working for most Summoners, and we have concluded the only way to address this issue is to change the system. The seeding system described above will keep competitive groups of Summoners together and provide better and fairer matches from season to season. Once this system is in place, the Victory Track and matchmaker will be structured to ensure any player who climbs the Victory Track and/or reaches the Gladiator's Circuit deserves to be there and didn't simply reach those heights because of softer matches.
As mentioned above, implementing the seeding system will take some time. In the meantime, we will continue to tweak the matchmaker every season. We know members of our forum have posted videos showing many low power accounts in the Gladiator's Circuit in Seasons 5, but pretty much all of those accounts were cheaters who got there illegitimately. For those Uncollected or Cavalier players who in past seasons have climbed high up on the VT, it's time to focus on growing your accounts if you want to continue to compete at that level.
Climbing
Many Summoners have shared that the medal system is too punishing for the average Summoner. Right now, a Summoner with a 50% win rate will average about 0.3 medals per match without using Victory Shields (contrary to what some think, the floor at every rank keeps it from becoming a true 0 sum system). Moreover, the way your wins and losses cluster is a major determining factor in how fast you climb, and this is uncontrollable by players. Additionally, those with a 40% or lower win rate are basically unable to climb at all.
With the implementation of the seeding system above, we expect win rates to trend even more towards 50%, especially in the middle of the ladder, as those in close competition to each other will effectively become cohorts that reset together and climb together from one season to the next.
To address these concerns, we are exploring ways to increase the average number of medals earned per match, so that a Summoner with a 50% win rate has the opportunity to climb more consistently and some Summoners with a sub 50% win rate will also be able to climb, at least a little bit.
Unlike the reset and matchmaking problems, we haven't yet settled on a solution to this problem. The solution might only apply to part of the VT or all of it, it might require you to queue with Elder's Marks, it might only apply to a certain number of matches a day, it might require us to increase medal requirements for some or all of the VT ranks, or any combination of the above. However, the one thing to take away from this section is that we agree this is a problem and we are working to address it. This solution may or may not be implemented at the same time as seeding is introduced, but our goal is for it to not lag too far behind.
Conclusion
This post focused on the largest concerns related to Battlegrounds, but these aren't the only things we are looking at. We are also exploring things like a solution to the pause exploit and whether or not a significant advantage is gained based on the order participants draft or place defenders. We understand all the concerns the community has related to Battlegrounds, and addressing these concerns is a priority. We are working on solutions right now, but they require new tech and as a result will take time to build and test. In the meantime, we hope you can find joy in what we know is a suboptimal experience. We will communicate again once we have a more firm timeline and clearer direction related to the climbing problem discussed in section 3 above.