Get a Free 3-6 Star Baron Zemo this Week!
Log in to the Summoner's Market at
https://store.playcontestofchampions.com/
and claim the Baron Zemo Selector between 10am PT November 24 and 10am PT on December 1st.
Proven and Below: 3-Star
Conqueror/Uncollected: 4-Star
Cavalier/Thronebreaker: 5-Star
Paragon/Valiant: 6-Star
You can only claim this Baron Zemo one time. The Baron Zemo is delivered as a selector, claiming it will require you to choose your rarity immediately. If you plan to change your Progression level during the Cyber Week event, we suggest you wait until you have made that change before claiming this selector.
What else can Rogue do?

Magrailothos
Posts: 4,975
★★★★★
Rogue is an interesting character, and I'm wondering about ranking her up, so thought I should do some research. It's pretty clear she's a decent champ (
https://forums.playcontestofchampions.com/en/discussion/comment/365647#Comment_365647)
. Current score: 88% 'Good', 10% 'Okay', 2% 'bad' from 129 votes.
Then I fought her with Hyperion in the arena this morning, which was interesting: I slipped up and let her touch me during her S1, so she briefly stole my power gain buff. Then I hit her with my S3, fought a bit more and won the match. However:
Hyperion didn't convert any more cosmic counters to Power Gain buffs for the rest of the match
, despite being at low power levels.
I presume this is a non-bug upset in the game mechanics, like Mephisto blocking Ice Armour at the beginning of the match so it never reforms after Soul Imprisonment is over; and I'm fine with it - happens rarely, and the Cosmic counters still boost your damage and resilience. On the other hand it's an interesting way of countering his power gain - anyone want to try this against Nameless Hyperion? Also, it reminded me about a thread discussing Rogue countering Spiked Armour -
https://forums.playcontestofchampions.com/en/discussion/58682/rogue-counters-spiked-armor#latest
As
@taojay1
explains, if Rogue uses her sp1 when the opponent has the physical resistance buff from spiked armour, she steals all the stacks of physical resistance; but also while she holds the buff, spiked armour will not reflect damage back to Rogue.
A thread about Rogue here (
https://forums.playcontestofchampions.com/en/discussion/comment/299585#Comment_299585)
has a few interesting pointers:
- Rogue does great on Power Shield nodes - presumably she gets the 400% boost to her Life Steal as well?
-
@silverseraph
made a suggestion that if she has stolen Fury effects, they'll boost the life steal as well - correct?
-
@taojay1
again here, mentions Rogue working well against Flare as well as Buffet nodes - when she steals a buff, Buffet converts it to regeneration; but she steals that too.
On the other hand buffs don't always seem to function quite as they do for the original owner - in this thread (
https://forums.playcontestofchampions.com/en/discussion/comment/376730#Comment_376730)
, it seems that whilst Rogue can steal Iceman's Ice Armour, she only gets the armour itself and not the 5% damage shrug.
There are some Youtube videos, such as Gran Scheme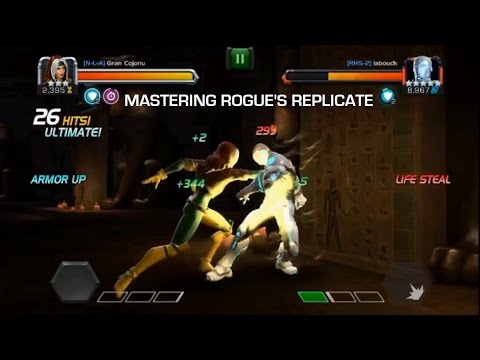 https://www.youtube.com/watch?v=pbQ4Nh4MD-g&t=2s
or Seatin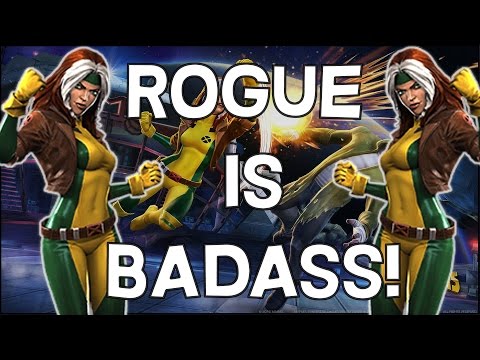 https://www.youtube.com/watch?v=yXTmBDHsNUU
that are interesting; but nothing much more than described above. So, I thought it would be interesting to generate a thread asking the community for ways others might not have realised to use this versatile mutant, and sharing the results of my own research. Share below, if you've got any further thoughts about what she can do, and how she works. Thanks!