**Known AQ Bug**
We are aware that some alliances encountered a bug during this last AQ that would not allow them to start maps on certain days. We know this has impacted your rewards.
We have been looking into the cause of the problem and once we have resolved it we will explore how to make things right for the impacted alliances. We will provide any additional communication in
Summoners! The Tiered Unit Offers available during the Summoner Celebration sale are only available until July 4th at 10 AM PT, unlike the Unit Store offers, which are available until July 5th at 10 AM PT. We apologize for any inconvenience or confusion this may cause.
Your worst all-time reward for a very long grind?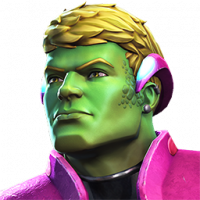 StarlordisWicked
Posts: 294
★
I just finished grinding out full exploration of Act IV so that I could take some of my heroes up to 5/50 in order to try and become uncollected. Took a month of work, even spending units on energy refreshes to grind it out. Finally finished. What did I earn for my hard work?

-3 Science T4 catalysts!!
-1 4-Star Joe-Fixit dupe
-enough five star shards to get
---
1 5-star Spider Gwen.

This is the danger in games like this. I originally played this game over a year ago and when I beast Maestro the first time I rolled Wolverine. When I did it on this account several months ago I earned.....Joe Fixit.

To be honest, this makes me very, very glad I haven't spent any money on the game. Why would I ever spend money with the chance at such horrible results?