**UPDATES TO ENLISTMENT GIFTING EVENT:**
To prevent exploitation, we will prevent new Accounts from being able to Gift enlistment crystals. We will also be taking action on those who are using 3rd Party Sellers, Bots and other farms to gift themselves mass amounts of Enlistment Crystals. Lastly, we will be adding an expiration timer to Enlistment Crystals. All unopened Enlistment Crystals will expire on Oct 18 @ 17:00 UTC. For more information, please see this post:
https://forums.playcontestofchampions.com/en/discussion/346104/updates-to-enlistment-gifting-event
Crystal Update - Nexus Chance Addition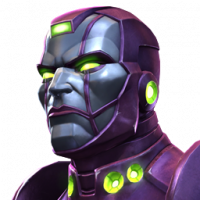 MCOC Team
Posts: 460
Administrator∙Moderator ›
Greetings Summoners!

Some fantastic improvements are coming to a Crystal near you! This October there will be improvements made to Premium Hero Crystals, Grandmaster Crystals and Cavalier Crystals. Starting October 1, a small chance of a Nexus Crystal will be added to each of these Crystals.

This change will affect all current basic Premium Hero Crystals, Grandmaster Crystals and Cavalier Crystals - so hold on to them for October 1 if you want the additional Nexus chance.

In addition, select Featured Hero crystals starting October 8 will also have a small chance of Nexus Crystals added. Don't worry, we won't be changing the Featured Hero chances - the goal is if you don't happen to get the Featured Hero, you have a chance to at least make a choice between some exciting Champions. Be sure to look out for the updated Nexus chance in the new Champion releases!

Additional notes:
- The chance of getting a certain Star Rating is not changing. If it is a 3% chance of a 4-Star, it will still be a 3% chance of a 4-Star, you just might get it in the form of a 4-Star Nexus crystal instead of a 4-Star Champion.
- For featured crystals - we are not changing the chance of a featured champion AT ALL. The Featured Hero chance remains the same.
- % chance of Nexus is out of 100% - so for a Premium Hero Crystal it is a 0.6% chance for all pulls, not a 0.6% on a 3% chance of 4-Star.
- First Featured Hero planned is the first new character in October.

Base Crystals
PREMIUM HERO CRYSTAL
Then:
4-Star Hero - 3%
3-Star Hero - 20%
2-Star Hero - 77%

Now:
4-Star Hero - 3% (0.6% chance 4-Star Nexus)
3-Star Hero - 20%
2-Star Hero - 77%

GRANDMASTER CRYSTAL
Then:
5-Star Hero - 3%
4-Star Hero - 15%
3-Star Hero - 82%

Now:
5-Star Hero - 3% (0.6% chance 5-Star Nexus)
4-Star Hero - 15% (3% chance 4-Star Nexus)
3-Star Hero - 82%

CAVALIER CRYSTAL
Then:
6-Star Hero - 1%
5-Star Hero - 11%
4-Star Hero - 38%
3-Star Hero - 50%

Now:
6-Star Hero - 1% (0.2% chance 6-Star Nexus)
5-Star Hero - 11% (2.2% chance 5-Star Nexus)
4-Star Hero - 38%
3-Star Hero - 50%

Featured Hero Crystals
Example crystal is Featured Hero Terrax - but as mentioned above, the chances of Featured Heroes are not going to change, so don't worry about the Featured Hero Drop rates.

FEATURED HERO CRYSTAL
Then:
Featured Prizes:
4-Star Terrax: 2.51%
3-Star Terrax: 7.11%

All Prizes:
4-Star Hero - 5%
3-Star Hero - 25%
2-Star Hero - 70%

Now:
Featured Prizes:
4-Star Terrax: 2.51%
3-Star Terrax: 7.11%

All Prizes:
4-Star Hero - 5% (1% chance 4-Star Nexus)
3-Star Hero - 25%
2-Star Hero - 70%

FEATURED GRANDMASTER CRYSTAL
Then:
Featured Prizes:
5-Star Terrax: 0.93%
4-Star Terrax: 4.07%
3-Star Terrax: 8.44%

All Prizes:
5-Star Hero - 5%
4-Star Hero - 15%
3-Star Hero - 80%

Now:
Featured Prizes:
5-Star Terrax: 0.93%
4-Star Terrax: 4.07%
3-Star Terrax: 8.44%

All Prizes:
5-Star Hero - 5% (1% chance 5-Star Nexus)
4-Star Hero - 15% (3% chance 4-Star Nexus)
3-Star Hero - 80%

FEATURED CAVALIER CRYSTAL
Then:
Featured Prizes:
6-Star Terrax: 0.31%
5-Star Terrax: 1.31%
4-Star Terrax: 5.19%
3-Star Terrax: 8.23%

All Prizes:
6-Star Hero - 1.5%
5-Star Hero - 17.5%
4-Star Hero - 36%
3-Star Hero - 45%

Now:
Featured Prizes:
6-Star Terrax: 0.31%
5-Star Terrax: 1.31%
4-Star Terrax: 5.19%
3-Star Terrax: 8.23%

All Prizes:
6-Star Hero - 1.5% (0.3% chance 6-Star Nexus)
5-Star Hero - 17.5% (3.5% chance 5-Star Nexus)
4-Star Hero - 36%
3-Star Hero - 45%




Post edited by Kabam Boo on