**BANQUET EVENT PSA**
To fully participate in the upcoming Banquet's Alliance Event you will need to be in your alliance for 14 days prior to the event's start date on December 20th. That means, stay in your alliance from December 6th onwards to enjoy all there is to offer in the Banquet event.
**Not Another Anime Reference Solo Event Returning**
This solo event has been fixed and will appear in game again on December 10th and will run through the 17th.
Reminder: This event is available to Paragon+ Summoners
INCOMING BUG FIX:

We'll fixing an issue with the Side Quests where all difficulties had the same Selector rewards.

We've fixed the Selectors in Threat Levels 4, 3, 2 and 1 to no longer contain rewards for Progression levels above the target audience.

Threat Level 4 rewards cap out at Thronebreaker
Threat Level 3 caps out at Cavalier
Threat Level 2 caps out at Uncollected
And Threat Level 1 has rewards for Proven
Pain is Eternal! The Eternity of Pain starts on May 11, 2022!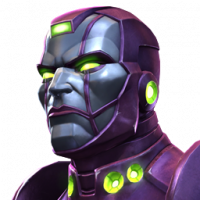 MCOC Team
Posts: 475
Administrator∙Moderator ›
Greetings Summoner,

Pain is eternal, and soon a special set of challenges will be made available to Thronebreaker players (by completing Act 6 Chapter 4 and having a Rank 3 6-Star Champion) and higher. Starting on May 11, 2022 challenging content that consists of ONE 1v1 fight will be released weekly. Be warned, however, that these encounters are not for the faint of heart, and will cause you to be overcome with grief.

Each week, for 5 weeks, a new fight will be featured and the previous week's fight will be removed. The 5th week, which will go live on June 8th will result in the culmination of your grief and DENIAL, where you will be tasked with dealing with all 4 of the previous fights in one painful path! Fret not though, as you will be able to bring 3 champions on this path, and will have 3 weeks to deal with this monumental task. To further increase the pain and difficulty, each week the fights will be accompanied by 2 Solo Objectives for you to try and overcome, with the 5th week featuring not 2, not 3, but 4 Solo Objectives. For players who have reached the rank of Paragon (by completing Act 7 Chapter 4 and having at least 3 Rank 4 6-Star Champions), they will have access to 1 additional Solo Objective each week and 2 additional Solo Objectives during the 5th week.

"But what of my rewards?", I hear you ask. Very well. You will be generously gifted 1 Gold for each encounter and Solo Objective you complete. You demand more? What arrogance! However, perhaps your pain and suffering is worth more. As you win fights and complete the Solo Objectives you'll collect points that will upgrade the rewards you can collect at the end of this set of challenges. Those rewards will remain a secret until the event begins.

DENIAL is only the start! The pain will continue all year long. Once this event concludes, the next will start after a week's break! That means you'll be able to collect the rewards for this event 4 times over the year! Use this opportunity to test your might and seize the materials you need to empower your Champions!

We look forward to seeing your eternal pain and suffering, so don't delay the inevitable. Depart on the path of the ETERNITY OF PAIN - DENIAL!