Dev Diary: The Future of Quests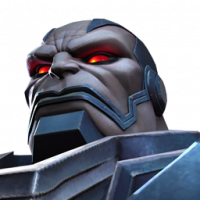 Kabam Miike
Posts: 6,557
Administrator ›
Summoners!

Part 1 of our Roadmap is live! Head over to our blog to read thoughts on the past, present, and future of Quests in Marvel Contest of Champions! Our team goes over what we've learned from the Book 2 Act 1 Beta Test and how we'll be moving forward revisions to Act 6 and the Champion Boss Fight, and much more! Read all about it on our Blog! Click here!

As we mention in the post, we'd like to hear from you, our players, on what your Act 6 Pain Points with certain bosses were. We have some of our own plans and targets in the works, but they're still early on and we don't want to limit the possibilities by talking specifics just yet.

We're going to set up a player focus group with a selection of 20-30 Summoners from across The Battlerealm and work with them to do some discovery surrounding what made some of the more troubling fights problematic. We're looking for players that have attempted Act 6 and can identify areas in which they felt they faced a challenge that was more difficult than they expected.

Apply to be part of the Act 6 Pain Point Player Focus Group here.