**KNOWN ISSUE**
Some items are displaying erroneous star ratings. This seems to be happening most on items where typically there are no star ratings. We have found the cause for the issue and it will be resolved, targeting mid-late next week.
Glory store problems [Merged Threads] [Under Investigation]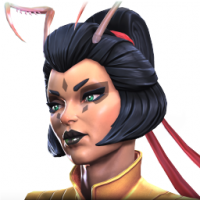 B_Dizzle_01
Posts: 1,637
★★★
**MOD UPDATE - 09/11 9:15AM PST**
Just a quick update - we're working on a fix for this with the rest of the team! We'll update you once we push it live. Thank you again for your continued patience.
---
I have enough glory to buy T4B catalyst frags but it says insufficient funds.
Post edited by Kabam Vydious on